Our EXCEED Microneedling service can significantly improve facial wrinkles, skin texture, and laxity with as few as four treatments.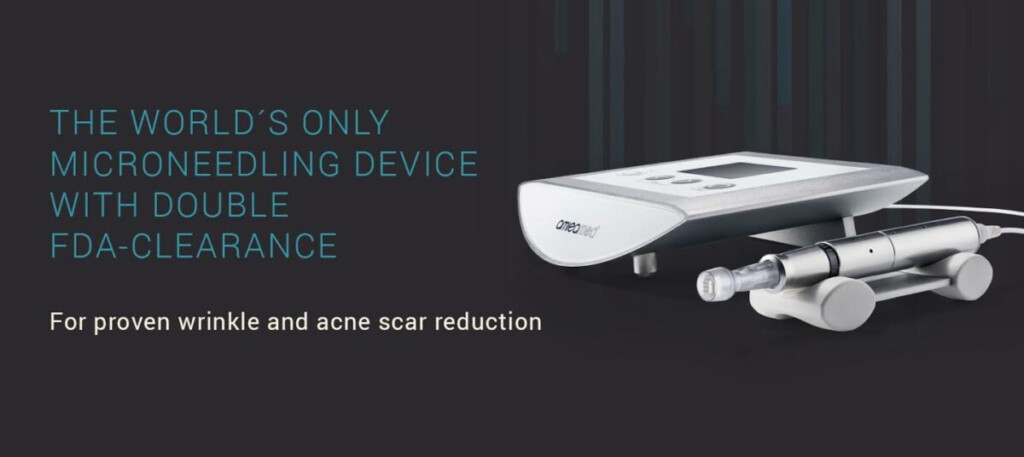 EXCEED microneedling device is one of only two Class 2 microneedling devices cleared by the FDA in the United States. Exceed is the first device to receive FDA clearance for wrinkle reduction. The Exceed is the only microneedling device with tapered needles for minimal skin tearing and faster closing of microchannels created during treatment. The cartridges of the pivot to allow for uniform controlled injury. Exceed is also designed so there is no risk of cross-contamination. Microneedling is a popular treatment due to the relatively low cost and high satisfaction for facial rejuvenation.
The many safety features of Exceed allow you to receive maximum results with minimal downtime. What sets our microneedling treatments apart is the included home care products with your first treatment. After your thorough consultation you will receive a tube of LMX numbing cream and Alastin Skin Nectar (if treatment goal is reducing wrinkles and skin laxity) to use prior to your appointment so your skin is well-prepared when you arrive for your first treatment. The Alastin Skin Nectar was selected based on the TriHex technology for collagen and elastin stimulation and arnica to reduce bruising and promote healing. For clients that are considering microneedling for pore reduction and skin texture improvement we recommend EGF Recovery serum to stimulate collagen and aid in healing. The recommended number of treatments, (since results are cumulative) is 4-6 visits, spaced 4-6 weeks apart.
Results from the clinical trial for FDA consideration are impressive- out of 48 patients (aged 35- 75 years of age) 100% showed a significant improvement in skin laxity and texture after 4 treatments. Additionally, 73% showed visible improvement in lines, wrinkles and texture and 83% showed a visible improvement in pore size reduction. Exceed is a German-engineered and produced product and is distributed world-wide.
We understand that you may have some questions about microneedling and may wonder if this premier treatment for wrinkle reduction, skin laxity and skin texture is right for you. We will be happy to chat with you and provide you with the information you need to make the best decisions. Please give your skin care experts a call at (734) 453-7475 or email us at [email protected]. We look forward to working with you!